NJAHHP Board Member Leslie Herman (2nd from the left) was recently interviewed for this story in the Star-Ledger.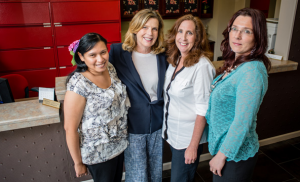 By Susan Bloom | For The Star-Ledger
For some, the term 'hearing aid' used to evoke for an image of an elderly figure connected to a large, unsightly device. These days, however, due to advances in technology and more thoughful attention to form and function, hearing aids deliver much higher-quality sound while barely visible. ...
...
The quality and breadth of today's hearing technology enables practitioners to reconnect their patients to their loved ones and the environment around them, noted Leslie Herman, Doctor of Audiology at Summit Hearing Aid Center in Summit.
"We hear with our brain, not our ears – the brain is where sound is converted to information and gives speech meaning," she said.